Stay safe – find the right prescriber for your Aesthetic Practice
If you are a medically trained aesthetic practitioner without a prescribing qualification, it is vitally important to find the right prescriber for your aesthetic practice, to keep your patients safe, your medical registration safe and finally keep your finances safe.
A registered prescriber
Firstly, the prescriber must be live on the register of their medical governing body (i.e. NMC, GMC, GDC etc). An individual may have a prescribing qualification, but their registration could have lapsed or been suspended.
An aesthetically trained prescriber
Having a qualification to prescribe is not sufficient, the prescriber should be trained in the aesthetic treatments they will be prescribing for your patients. You need a prescriber who has the skills and knowledge to prescribe the correct treatment, without formal training how can that competency be evidenced.
An insured prescriber
In addition to being registered and aesthetically trained your prescriber should be independently insured to prescribe the relevant aesthetic treatments. Importantly the insurance policy should allow the prescriber to prescribe for other practitioners to administer those treatments.
Patient and registration safety
Without a registered, aesthetically trained, and insured prescriber you are putting your patient's safety and the safety of your registration at risk. In the unfortunate event of a complaint from a patient to your governing body, you will need to evidence you have put patient safety as the top priority in your practice to allay the potential threat to your registration.
Financial implications
The financial consequences of a patients' insurance claim could be catastrophic if you have not used a prescriber with the qualifications, knowledge and cover discussed. Your insurance policy could be invalid, leaving the patient to target your personal wealth to get the compensation they believe they deserve. With 15 years connecting only registered, aesthetically trained and insured prescribers to only medically trained aesthetic practitioners, we are here to help you find the right prescriber for your practice.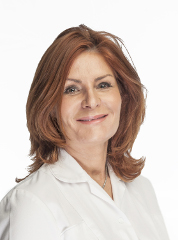 Jayne Beckett RN INP
Founder – Aesthetics Associates